Coil shocks work best on bikes that have a more progressive leverage rate. Some bike manufacturers may not recommend using a coil shock due to a frame's linear leverage rate or particular fitment issues. Consult your frame manufacturer to confirm. An air shock may still be preferred due to your frame manufacturer's suspension kinematics.
2023 Super Deluxe Coil and Deluxe Coil rear shocks were designed from the ground up, in part due to the additional stress yoke/strut designs can put on coil shocks. As such, we have qualified 2023 coil rear shocks for use in these applications. There are 2 known bike model exceptions to this: Commencal Meta TR Power and Specialized Kenevo. These two bike models are only compatible with a Super Deluxe Air shock OR a MY23 Super Deluxe Coil shock WITH a steel shaft.
---
Pre-MY23 Super Deluxe Coil (A1-A2)
Pre-2023 RockShox Super Deluxe coil shocks* are not compatible with yoke/strut lengths that fall outside of the below specification:

Shock Stroke Maximum Strut Length
40mm-45mm 118mm
50mm-55mm 90mm
60mm-65mm 72mm
70mm-75mm 37mm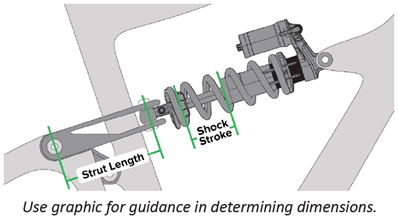 *Pre-2023 Super Deluxe Coil rear shocks can be recognized by the model code ending in "A1" or "A2." Model type, year, and model code can be found by entering the rear shock serial number into either the SRAM Service Site or RockShox Trailhead App. 2023 Super Deluxe Coil and Deluxe Coil rear shocks are identified by the "B1" model code.

Known bike models that fall outside of this specification are:

MY18 – MY23 Commencal Meta and Meta TR Power**
MY20 – MY23 Ibis Ripmo and Ripmo AF
MY19 – MY23 Specialized Stumpjumper, Stumpjumer EVO, Levo (Gen2, Gen3), Levo SL, Kenevo**

Note: This list is by no means exhaustive, and this list may be updated at any time.

** Meta Power TR and Kenevo are only compatible with Super Deluxe Air, or a 2023 Super Deluxe Coil with WITH a steel shaft.