You can change your RockShox DebonAir or Solo Air fork to Dual Position Air (or vice versa,) but you will need to change the CSU (Crown-Steerer-Upper assembly,) and the air spring assembly.
DebonAir and Solo Air CSUs use a small dimple in the stanchion which allows for air bypass when setting up the air chambers properly. The Dual Position Air CSU has no dimple - a dimple in this CSU would not allow the Dual Position spring to function properly by allowing air bypass when it shouldn't.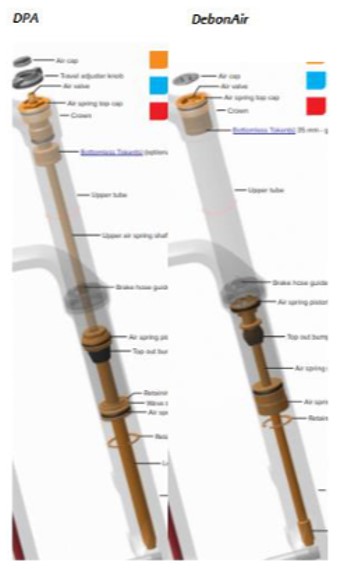 Enter your serial number at the RockShox Trailhead App to identify your specific fork and the RockShox Spare Parts Catalog to identify the CSU and air-spring needed to make this conversion.
____________________________________________________________________________________________
How to use the RockShox Trailhead App and the RockShox Spare Parts Catalog:
1) Enter your serial number.
Note: Depending on model year, some forks may not show up in Trailhead App. Consult your local bike shop or RockShox Rider Support for help determining the necessary Crow-Steerer-Upper and air-spring assemblies.
2) Look for the model year and chassis designator of your fork.
Tech Tip | Serial numbers show the age of your fork based on week, facility, and year of production in the first four digits. Example: 41T8... = week 41, produced in Taiwan, in the year 2018
3) Find the Spare Parts Catalog from the SRAM Service Site and navigate to the corresponding page.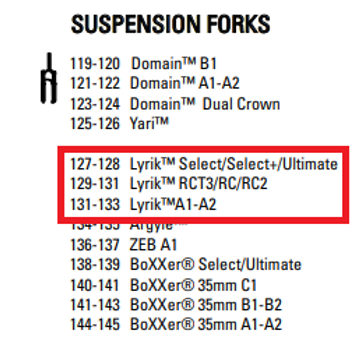 4) Use the number associated with the images above to find the necessary CSU and air-spring part number.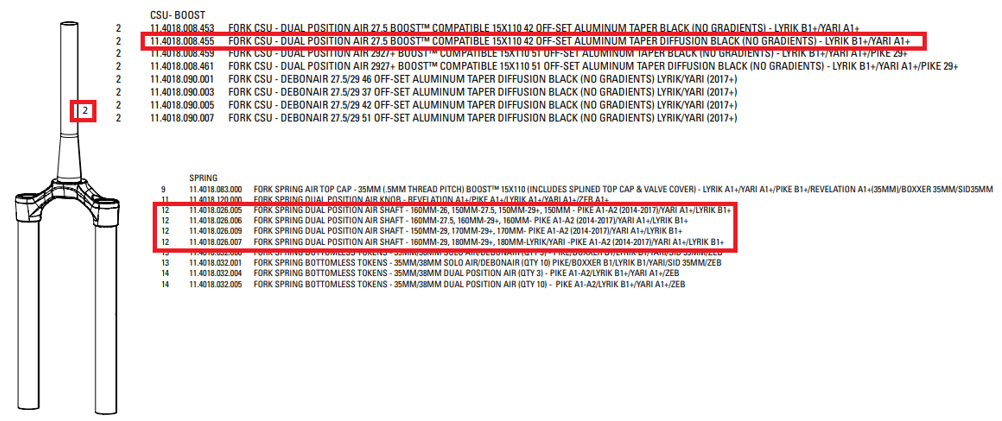 5) Find the instructions on how to change the parts in the service guide for your fork at the SRAM Service Site or the RockShox Trailhead App.
TechTip | It's a good idea to perform a 200-hour service while swapping the CSU since the fork will be completely disassembled